As ever, the annual Care at Home and Housing Support Awards were held to coincide with the daytime Conference and Exhibition and took place on 12th May at the Marriott hotel in Glasgow.
The afternoon conference was well attended this year and included speakers from across the Health & Social Care Sector and included guest speak Shona Robinson SMP. The conference also included exhibitors and break-out sessions including representatives from the SSSC , The Care Inspectorate and Disclosure Scotland.
The Scottish Care at Home Awards ceremony in the evening is held to celebrate some of the people who work so hard to provide care services for those in need.
Staff representatives of Hazelhead attended the awards this year and were delighted that our Operations Director was presented with an award for "Significant Achievement".
We were all delighted that Gina was the winner of such a prestigious award and our thanks go to Scottish Care for honouring a member of our team with the award this year.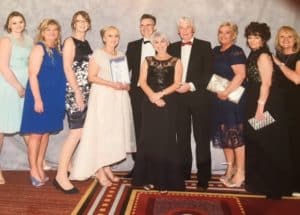 Hazelhead has previously been recognised by Scottish Care for a number of different awards over the years. These awards have been in a number of different categories including twice winning "Scottish Care at Home Provider of the Year". This latest award will add nicely to our collection which is proudly displayed in our head office in Braidwood, Carluke!